Let's Play Tower Defense! Campaign
This is basically another collab with ShiroPro, but it's not an actual ingame event this time so I'm just putting it here instead.
Duration: 11/8/18 - ??? (Likely permanent)
http://aigis1000.jp/notification/detail/id/5119/
Rank up in both Aigis and ShiroPro, and obtain rewards:
Rank 5 - 10SC
Rank 10 - 10SC (20 Total)
Rank 15 - 10SC (30 Total)
Rewards will be distributed on the first maintenance of the month following completion (once only).
Note: Even if you've participated in previous collabs, you'll still be able to get the 30SC. Do log in to ShiroPro at least once just to be safe, though.
Links
TGS Serial Code
tgs7181294
Gold+ Female Unit Ticket
Autumn Festival
Autumn Festival
https://games.dmm.co.jp/campaign/autumn2019/
Click the big blue button and login to your games every day
For the 1st Chance Reward, login at least 3 days in a row and a total of 5 days within the first 10 days
Bonus chance - clear the first chance and login a total of 18 days during the festival period
NOTE: No rewards for Aigis are listed. Probably because this overlaps with their anniversary?
PSA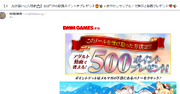 Check your emails for something like this ->
If you did get one, click the big yellow button near the bottom for 500 free DMM points. Time limit 12/31.

Edit: Scratch that, these points can't be used on the games. Will leave this here incase anyone wants to buy some AVs or HAnimu I guess.
Winter Festival
Winter Festival
https://games.dmm.com/cp/festival/winter/
Login to Aigis between Dec. 19th to Jan. 20th to be eligible to receive 1 plat+ female ticket and 10 diamonds.

Summary courtesy of FKG wiki
Click red button at bottom right to join, playing any of the 39 games listed each day will add 1 login ticket to your counter. There's a roulette you can roll each day, Roulette resets at midnight JST each day.
Roulette consist of:
Main prize, 2m yen distributed between 200 winners, and 33 login ticket for each person
1k yen amazon code
500 yen amazon code
Login ticket 1x/3x/5x/25x
However, any cash and physical reward will require you to have a physical address in Japan or a Japanese bank account. They will not be sending anything overseas.
Once you have 10x ticket, you have won 300 game pts and entered lotto for amazon code + cash price.
Once you have 25x ticket, the game pts would be 500 instead of 300, and more lotto crap.
Once you have 33x+, game pt is 500
Tickets after 10x will be converted into 5 pts each, and more cash lotto.
Depending on the ticket threshold you reach, existing tickets will be "used up" to satisfy the threshold requirements for 300 / 500 DMM points accordingly.
(Example 1: Having 21 tickets in total nets you 300 + 11 x 5 = 355 points at the end of the campaign)
(Example 2: Having 27 tickets nets you 500 + 2 x 5 = 510 points)
The rewards will be distributed in Later Jan ~ Early Feburary 2020. You will get an email with the redeeming url as well as it stating the redeem duration, after redeeming it will tell you the pts expiration date. Should last 1 month.
Community content is available under
CC-BY-SA
unless otherwise noted.