Fame (名声) is a resource accumulated by fulfilling certain conditions, which can be used in an exclusive gacha.
As fame is accumulated, the rewards available from said gacha are improved, certain limited units will be made available, and additional rewards will be granted. However, the gacha can only be used once a month.
Each cycle of gacha and points begins with the first maintenance of the month, and ends with the first maintenance of the next month (the end date for the current cycle is indicated on the top left of the UI, see translated picture below).
The player should decide on what reward tier they want before making use of the gacha. Higher fame points accumulated do not correlate to a higher chance of obtaining higher-rarity units.
The gacha pool includes all units currently implemented at the start of a cycle, excluding fodder units (Happy being an exception), event units, and limited units (i.e. Imperials).
Summoned units begin at lv1.
The Chibis and Happy are not guaranteed, they are merely added to the available pool as points are accumulated.
Using the gacha does not consume any fame.
The additional rewards can still be obtained after using the gacha.
Translated UI
December/January features a higher variety and number of rewards.
December/January Totals (1 month's worth)
Totals:
Gold Armor x1
Superior Gold Armor x38
Rainbow Armor x3

1.164.000 Gold + 300 RC total for all of the above

Platinum Armor x1
Black Armor x1
Alegria x3
Freude x4
Farah x3
Liebe x2
Placere x3
Christia x6
Nina (Bonded) x1
Celia (Bonded) x1
Florika (Bonded) x1
Gladys (Bonded) x1
Victoire x2
Naiad x1
Past Rewards Log
Period
Rewards
Period
Rewards
October 2017

January 2019

November 2017

February 2019

December 2017

March 2019

January 2018

April 2019

February 2018

March 2018

April 2018

May 2018

June 2018

July 2018

August 2018

September 2018

October 2018

November 2018

December 2018
Conditions
Note that any clear (1-3 stars), including Story Missions, Challenge Quests, Event Missions, Subjugations, etc. will count towards the clear count.
Daily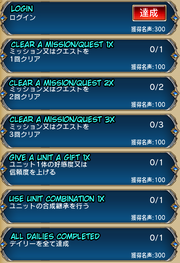 Resets at 4AM (JST).
Login: 300
Mission or Quest Cleared 1 time: 100
Mission or Quest Cleared 2 times: 100
Mission or Quest Cleared 3 times:100
Give a unit a gift 1 time: 100
Use unit combination 1 time: 100
Clear all other daily fame missions: 300
Total available points: 1100

Monthly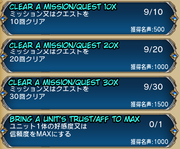 Resets with the first maintenance of each month.
Mission or Quest Cleared 10 times: 500
Mission or Quest Cleared 20 times: 1000
Mission or Quest Cleared 30 times: 1500
Bring a unit's affection/trust to maximum 1 time: 1000
Total available points: 4000

Weekly
Resets with each maintenance (2nd July 2020 - 9th July 2020).
Clear 1 daily mission: 100 Fame
Clear 3 daily missions: 500 Fame
Clear 5 daily missions: 500 Fame
Clear 10 daily missions: 500 Fame
Total available points: 1600