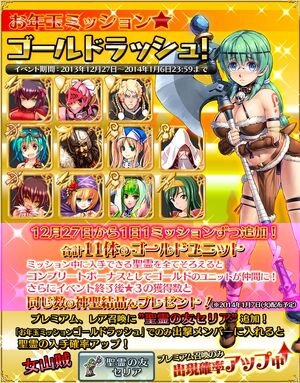 Gold Rush 1 (年末年始お年玉イベントゴールドラッシュ!) is a Gold Rush-type urgent mission that ran from 27/12/13 to 06/01/14.

Revivals
Start Date
End Date
21/05/2015
28/05/2015
Reprinted only for PC, Android all-ages versions.
Notes
[
]
Gold Rush missions have Completion rewards. To get them, obtain all the drops available from the maps.
Completion rewards are units of Gold rarity.
Missions
[
]
Stage Name
Cha
Exp
Gold
Points
Units
Drops
Completion Reward
Sta
Life
Enemies
ゴールドラッシュ狩人の森
Hunter's Forest
25
150
1500
15
6

Spirit of Gold

Spirit of Silver

Spirit of Iron

Bella
2
10
22
ゴールドラッシュ鎧の行軍
Armor's March
25
150
1500
15
6

Spirit of Gold

Spirit of Silver

Spirit of Bronze

Garrett
2
10
16
ゴールドラッシュ死神と聖女
Death God and The Saint
25
150
1500
15
6

Spirit of Gold

Spirit of Silver

Spirit of Iron

Iris
2
10
19
ゴールドラッシュ騎士の宴
Knight's Banquet
25
150
1500
15
6

Spirit of Gold

Spirit of Silver

Spirit of Bronze

Carrie
2
10
21
ゴールドラッシュ降り注ぐ矢
Arrow Rain
25
150
1500
15
6

Spirit of Gold

Spirit of Silver

Spirit of Iron

Claire
2
10
35
ゴールドラッシュ強敵の挑戦
Strong Enemy's Challenge
25
150
1500
15
6

Spirit of Gold

Spirit of Silver

Spirit of Bronze

Bernice
2
10
18
ゴールドラッシュ女盗賊団
Female Bandit Band
25
150
1500
15
6

Spirit of Gold

Spirit of Silver

Spirit of Iron

Cuterie
2
10
31
ゴールドラッシュ山賊大移動
Bandits' Great Exodus
25
150
1500
15
6

Spirit of Gold

Spirit of Silver

Spirit of Bronze

Conrad
2
10
37
ゴールドラッシュ空の悪魔
Devil of the Skies
25
150
1500
15
6

Spirit of Gold

Spirit of Silver

Spirit of Iron

Fedora
2
10
58
ゴールドラッシュ魔法兵団
Magic Army Corps
25
150
1500
15
6

Spirit of Gold

Spirit of Silver

Spirit of Bronze

Barbastroff
2
10
36
ゴールドラッシュ最後の試練
The Final Trial
25
150
1500
15
6

Spirit of Gold

Spirit of Silver

Spirit of Iron

Betty
2
10
58
External Links
[
]
Gallery
[
]