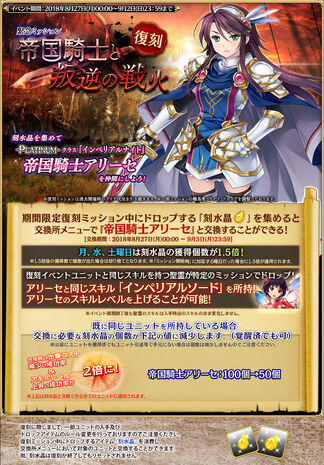 Imperial Knight and the Fires of Rebellion (帝国騎士と叛逆の戦火) is a star rush urgent mission running from 21/09/17 to 05/10/17.
Revivals
Start Date
End Date
27/08/2018
02/09/2018
Revival Notes
Edit
Players farm Time Crystals from any of the event maps.
A certain amount of Time Crystals is needed to trade for a copy of the revived unit.

Subsequent copies will cost less Time Crystals.

For the duration of the revival, the chance of Skill Level Up and Cost Reduction for the unit is doubled.
For Monday, Wednesday and Saturday (JST time, UTC +9:00), all Time Crystals gained from farming any of the maps will be multiplied by 1.5x.
This is a star rush type event. The player earns rewards by completing missions and earning stars.Unit rewards will be received based on the amount of collected stars at the end of the event whereas additional rewards are granted instantly.
Condition
Reward
Earn 5 stars
Clara joins
Earn 6 stars
Aleese joins
Earn 7 stars
Skill Level 2
Earn 8 stars
Skill Level 3
Earn 9 stars
UP Cost -1 (-1)
Earn 10 stars
Initial Level 10
Earn 11 stars
Skill Level 4
Earn 12 stars
Skill Level 5
Earn 13 stars
UP Cost -1 (-2)
Earn 14 stars
Skill Level 6
Earn 15 stars
Initial Level 20
Earn 16 stars
Skill Level 7
Earn 17 stars
UP Cost -1 (-3)
Earn 18 stars
Skill Level 8
Earn 19 stars
Initial Level 30
Earn 20 stars
Skill Level 9
Earn 21 stars
UP Cost -1 (-4)
Earn 22 stars
Skill Level 10
Earn 23 stars
UP Cost -1 (-5)
Earn 24 stars
Initial Level 40
Earn 25 stars
Initial Level 50
Earn 26 stars
Freude
Earn 27 stars
Onyx
Original Missions
Stage Name
Cha
Exp
Gold
Points
Units
Drops
Sta
Life
Enemies
白の帝国へ
To the White Empire
20
150
1050
10
8

Soldier (Bow) A Lv5 x2

Spirit of Bronze
1
10
25

Beer
-
思わぬ出迎え
Unexpected Welcome
30
200
1275
10
8

Mischa Lv8

Russell Lv8 x2
2
15
55

Bouquet
-
動き出す陰謀
Moving Conspiracy
40
250
1500
10
8

Eunice Lv10

Cecily Lv10
3
10
45

Spirit of Black

Demon Crystal (1)
市街防衛戦
City Defensive Battle
50
300
2250
10
8

Percis Lv12

Daniela Lv12
5
10
58

Platinum Armor

Crystal
天使たちの企み
Angels' Plan
70
350
3000
10
8

Bernard Lv15

Niel Lv15
6
20
58

Spirit of Platinum

Demon Crystal (2)
Missions added midway through the event
海上の飛空船
Airship on the Sea
40
270
1800
10
8

Giovanni Lv10

Nicholaus Lv10
4
10
40

Spirit of Gold

Choice Sake
露見せし叛逆
Exposed Rebellion
50
300
2250
10
8

Phyllis Lv12

Merone Lv12
5
15
55

Cassis Lv12

Demon Crystal (1) x2
帝国を護りし者
Protector of the Empire
100
250
1800
10
8

Spirit of Gold

Spirit of Platinum
2
15
57

Spirit of Black

Completion:
Spirit of Rainbow
第二回合同演習
Second Joint Exercise
70
350
3000
50
8

Rita Lv15

Lucia Lv15
6
50
150

Alissa Lv15

Spirit of Platinum
Revival Missions
Stage Name
Cha
Exp
Gold
Points
Units
Drops
Sta
Life
Enemies
白の帝国へ
To the White Empire
20
150
1050
10
8

Soldier (Bow) A Lv5 x2

Spirit of Bronze

Beer
2
20
25

Time Crystal (3)
-
思わぬ出迎え
Unexpected Welcome
30
200
1275
10
8

Mischa Lv8

Russell Lv8 x2

Bouquet
2
50
55

Time Crystal (3)

Bonbori
-
動き出す陰謀
Moving Conspiracy
40
250
1500
10
8

Eunice Lv10

Cecily Lv10

Spirit of Black
3
20
45

Demon Crystal (1)

Time Crystal (3) x2
-
市街防衛戦
City Defensive Battle
50
300
2250
10
8

Percis Lv12

Daniela Lv12

Platinum Armor
5
15
58

Crystal

Time Crystal (5) x2
-
天使たちの企み
Angels' Plan
70
350
3000
10
8

Bernard Lv15

Niel Lv15

Spirit of Platinum
6
20
58

Demon Crystal (2)

Time Crystal (5) x3
-
海上の飛空船
Airship on the Sea
40
270
1800
10
8

Giovanni Lv10

Nicholaus Lv10

Spirit of Gold
4
20
40

Choice Sake

Bonbori
-
露見せし叛逆
Exposed Rebellion
50
300
2250
10
8

Phyllis Lv12

Merone Lv12

Cassis Lv12
5
20
55

Demon Crystal (1) x2

Time Crystal (5) x2
-
帝国を護りし者
Protector of the Empire
100
250
1800
10
8

Spirit of Gold

Spirit of Platinum

Spirit of Black
2
15
57

Completion:
Spirit of Rainbow
-
第二回合同演習
Second Joint Exercise
70
350
3000
50
8

Rita Lv15

Lucia Lv15

Alissa Lv15
6
50
150

Spirit of Platinum

Time Crystal (5) x3
-
Mission added in revival
舞い降りし巨像
Descending Giant Statues
90
250
1500
10
8

Time Crystal (5) x3

Time Crystal (3) x3

Bonbori
12
20
57
Notable Enemies
Edit
Enemy
Unit
Type
Attack
Type
HP
ATK
DEF
MR
Attack
Speed
MOV


UP

Notes

Black Goblin Mage
Ranged (140)
Goblin
Magic
1800
350

50

231
Initial: 40
Move: 161
Missile: instant
700
1 UP

Green Sniper
Ranged (300)
Human
Physical
6000
500

300


MR 10
331
Initial: 70
Move: 241
Missile: 0
1000
1 UP
Switches to melee form after a set time.
Toxic strikes: Deals double damage, calculated after armor.
(ATK - DEF)*2

Melee
Human
600
106
Initial: 20
Toxic strikes: Deals double damage, calculated after armor.
(ATK - DEF)*2

Green Assassin (Crossbow)
Ranged (180)
Human
Physical
6000
400

300


MR 10
211
Initial: 50
Move: 121
Missile: 12
400
1 UP
Switches to melee form after a set time.
Toxic strikes: Deals double damage, calculated after armor.
(ATK - DEF)*2

Green Assassin
Melee
Human
Physical
6000
600

300


MR 10
106
Initial: 20
400
1 UP
Stealthed.
Toxic strikes: Deals double damage, calculated after armor.
(ATK - DEF)*2

Six
Ranged (220)
Human
Physical
18000
800×2

500


MR 20
251
Initial: 24
Move: 201
Missile: 0
1000
3 UP
Toxic strikes: Deals double damage, calculated after armor.

(ATK - DEF)*2


Red Goblin Bomber
Ranged (87)
Goblin
Physical
1000
500

0

121
Initial: 14
Move: 81
Missile: 3
1100
1 UP
Upon death, explodes for 200% damage area attack with radius 80 centered at the goblin (after 80 frame animation).

Black Goblin Bomber
Ranged (87)
Goblin
Physical
1000
800

0

121
Initial: 14
Move: 81
Missile: 3
1100
1 UP
Upon death, explodes for 200% damage area attack with radius 80 centered at the goblin (after 80 frame animation).

Dominion
Melee
Angel
Physical
10000
800

200


MR 20
206
Initial: 8
700
2 UP

Angel Mage Knight (White)
Ranged (200)
Armored Angel
Magic
4000
350

500

221
Initial: 40
Move: 141
Missile: 0
500
3 UP
Attacks all units within range.

Angel Knight (Black)
Melee
Angel
Physical
10000
1000

900

260
Initial: 60
500
3 UP

Sephire
Ranged (300)
Angel
Magic
Splash 133.33
45000
800

400


MR 30
130
Initial: 30
Move: 71
Missile: 6
300
3 UP

Imperial Knight
Ranged (140)
Human
Physical
11000
400

450


MR 10
81
Initial: 17
Move: 51
Missile: 10
700
2 UP

Black Assassin (Crossbow)
Ranged (180)
Human
Physical
12000
800

500


MR 10
211
Initial: 50
Move: 121
Missile: 12
400
2 UP
Switches to melee form after a set time.
Toxic strikes: Deals double damage, calculated after armor.
(ATK - DEF)*2

Black Assassin
Melee
Human
Physical
12000
1100

500


MR 10
106
Initial: 20
400
2 UP
Stealthed.
Toxic strikes: Deals double damage, calculated after armor.
(ATK - DEF)*2

White Emperor
Ranged (190)
Human
True
50000
1500

1300


MR 20
96
Initial: 12
Move: 61
Missile: 10
700
3 UP

Clara
Flying
Ranged (60)
Human
Physical
10000
700

200


MR 15
91
Initial: 8
Move: 61
Missile: 0
900
2 UP
Does not stop to attack.

Isabelle (Flying)
Flying
Ranged (60)
Human
Physical
14000
1000

250


MR 15
91
Initial: 8
Move: 61
Missile: 0
900
3 UP
Does not stop to attack.

Elmira
Ranged (300)
Armored Human
Physical
Splash 80.00
13000
750

500


MR 10
321
Initial: 45
Move: 241
Missile: 4
300
3 UP
Uses melee attack while blocked.

Melee
Armored Human
Physical
206
Initial: 12

Rösel
Ranged (400)
Human
Physical
8000
1200

200


MR 10
206
Initial: 40
Move: 141
Missile: 0
350
3 UP

Angeline
Melee
Human
Magic
15000
1000

800


MR 25
141
Initial: 17
500
3 UP
All Imperial enemies gain 20% ATK/DEF (inc. self).

Leona
Ranged (210)
Human
Physical
15000
400×2

250


MR 10
25
Initial: 9
Move: 7
Missile: 10
500
3 UP
All Imperial enemies gain 20% ATK/DEF (inc. self).

Leora
Melee
Human
Physical
20000
700

350


MR 10
64
Initial: 16
500
3 UP
All Imperial enemies gain 20% ATK/DEF (inc. self).

Kyuubi
Melee
Youkai
Physical
25000
1000

300


MR 20
78
Initial: 16
600
3 UP
50% chance to dodge physical attacks.

Mephisto
Melee
Demon
Magic
4000
800

400


MR 30
69
Initial: 14
600
0 UP
When HP reaches 0, pauses briefly and fully restores HP. This can occur up to 5 times (total of 6 lives). Becomes stronger with the last resurrection.

1000

600


MR 30
600
3 UP

Lapis
Melee
Demon
Physical
15000
-

350


MR 40
109
Initial: 0
500
3 UP
Units within 220 range suffer 30 damage per 0.1 seconds (300 damage per second).

Rita
Ranged (200)
Human
Physical
11000
580

180


MR 20
86
Initial: 12
Move: 41
Missile: 3
600
3 UP
Cannot be attacked unless she is engaged with a blocker.

Sieglinde
Ranged (260)
Human
Physical
30000
2400×7

550


MR 10
267
Initial: 12
Move: 201
Missile: 12
400
3 UP

Angel Statue
Melee
Angel
Physical
30000
2800

4000


MR 10
251
Initial: 90
250
3 UP
External Links
Edit