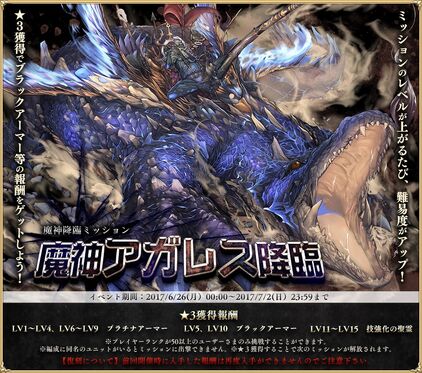 Majin Agares' Advent (魔神アガレス降臨) is a Majin Advent urgent mission that ran from 21/09/16 to 06/10/16.
Upon hearing of the sudden disturbances caused by demons and earth elementals in a nearby valley, the Prince decides to investigate, and realises that the cause is the legendary Majin Agares!
Agares is a cunning foe, able to manipulate the souls and emotions of monsters to significantly improve their fighting potential upon receiving even the tiniest hit. Faced with such an enemy, how will the Prince overcome such a challenge?
Revivals
Start Date
End Date
29/12/2016
05/01/2017
26/06/2017
02/07/2017
20/11/2017
26/11/2017
25/06/2018
01/07/2018
24/10/2019
07/11/2019
Prince's Rank has to be 50 or higher to participate.
Multiple units with the same name are not allowed.
Previous maps have to be 3-starred in order to unlock the next ones.
Map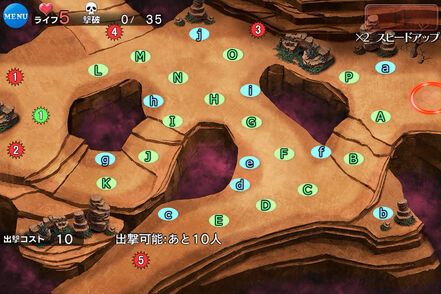 Agares' gimmick causes monsters to drastically increase their movement speed upon being hit.
On Level 5 and onward, defeating Agares once causes him to switch to his 2nd form.
 
Missions
Stage Name
Cha
Exp
Gold (3★)
Points
Units
3★ Reward
Life
Enemies
Lv1
32
400
2400
10
10

Platinum Armor
5
35
Lv2
34
440
2565
10
10
5
39
Lv3
36
480
2730
10
10
5
41
Lv4
38
520
2895
10
10
5
48
Lv5
40
560
3060
10
10

Black Armor
5
45
Lv6
42
600
3225
10
10

Platinum Armor
5
47
Lv7
44
640
3390
10
10
5
49
Lv8
46
680
3555
10
10
5
49
Lv9
48
720
3720
10
10
5
64
Lv10
50
760
3885
10
10

Black Armor
5
62
Lv11
52
800
4050
10
10

Spirit of Rainbow
5
71
Lv12
54
840
4215
10
10
5
71
Lv13
56
880
4380
10
10
5
71
Lv14
58
920
4545
10
10
5
71
Lv15
60
960
4710
10
10
5
71
Lv16
50
760
3885
10
10

Black Armor
5
106
Lv16 ★4
50
760
3885
10
10

Sacred Crystal x3
1
106
Enemy ATK increased by 1.2x, Unit Points don't regenerate
Lv 1
Lv 2
Lv 3
Lv 4
Lv 5
Lv 6
Lv 7
Lv 8
Lv 9
Lv 10
Lv 11
Lv 12
Lv 13
Lv 14
Lv 15
Lv 16
Name
Types
HP
ATK
DEF
Details
Notes

Majin Agares ×1
(edit)
Demon
7000 HP
Physical
ATK: 1500
Range: 217
DPS: 

398



500 DEF
50 MR
300 MOV

Small Earth Elemental ×11
(edit)
2100 HP
Physical
ATK: 300
Range: 67
DPS: 

76



200 DEF
40 MR
1100 MOV
1 UP
Does not attack until reaching 99% HP. Attacks all units within range simultaneously.
Upon reaching 99% HP, movespeed increases to 2200.

Makai Worm ×8
(edit)
Demon
2100 HP
Physical
ATK: 175
DPS: 

69




---

ATK: 175
DPS: 

121



50 DEF
70 MR
1000 MOV
1 UP
Cannot be attacked unless engaged with a blocker.
Upon reaching 99% HP, movespeed increases to 2000 and attack speed increases.

Red Flying Demon ×5
(edit)
Demon
1400 HP
ATK: 0
350 DEF
60 MR
500 MOV
1 UP
Does not attack.
Upon reaching 99% HP, movespeed increases to 1500.

Red Demon ×10
(edit)
Demon
4200 HP
Physical
ATK: 350
DPS: 

148



150 DEF
50 MR
300 MOV
1 UP
Upon reaching 99% HP, movespeed increases to 2000 and attack speed increases.
Dialogue
Edit
Translations courtesy of Petite Soeur (Patreon) (edited)
Anna Introduction

"Prince, the appearance of a monster possessing incredible fighting abilities has been confirmed."
"According to the soldiers' report, many demons and earth elementals appeared in a valley, and are marching to our territory."
"The scout team discovered, and intercepted the monsters, but it seems whenever the monsters lose the slightest bit of health, they transform into monsters that run as fast as a Kijin on the battlefield."
"The entire team that intercepted them were wiped out, and according to the testimony of the soldiers who survived, they reported that a small elderly man was leading the monsters."
"An earth elemental is an existence where the energy dwelling in a natural object manifests itself, it's impossible to easily describe them..."
"On top of that, they're being accompanied by demons from Makai... I was wondering who it could be, but... there is a monster that fits the soldiers' testimony..."
"The legendary Majin Agares..."
"According to legend, he is a Majin that reigns as a monster tamer in Makai, who has a gigantic monster at his beck and call."
"It has been recorded that by controlling the hatred and anger residing within monsters, he makes their movements quick and nimble by making them fly into a rage at just the slightest injury."
"By drawing out the emotions of unbelievably dangerous monsters, and then having them fight, there's no doubt he's a dangerous being."
"Prince, if we head out to subdue him, then let's attack the monsters at the right time, and deal with them carefully."
"I recommend that you challenge this fight after making sufficient preparations thoroughly training your allies and selecting your team."
LV10 Event Scene

Anna: "Prince, Majin Agares has started to retreat!"

Strey: "Thanks, Prince. Ever since Majin Agares's arrival, the monsters were so frightened, I felt sorry for them."

Barbastraff: "Majin Aagres, on top of controlling even mindless earth elementals, transformed them into dangerous monsters."

Anna: "Letting them rampage like that could've upset the balance of nature."

Strey: "I see what you mean... If the elementals that preside over nature were to change, it would be difficult for animals to live."
Strey: "You have my sincere thanks for stopping Majin Agares, Prince."

Anna: "It was quite fortunate that we were able to repel Majin Agares, and save nature... Well then, let us return home."
Agares is a demon described in demonological grimoires such as the Livre des Esperitz, the Pseudomonarchia Daemonum, the Lesser Key of Solomon, and the Dictionnaire Infernal as a duke "under the powers of the east," an "old man, riding upon a crocodile, and carrying a hawke on his fist," who teaches languages, stops and retrieves runaway persons, causes earthquakes, and grants noble titles. The Lemegeton and the Pseudomonarchia Daemonum both list him as the second spirit, and state that he commands 31 legions of demons, while the Livre des Esperitz gives him 36.
External Links
Edit
Community content is available under
CC-BY-SA
unless otherwise noted.