System Requirements
[
]
System
[
]
PC: Chrome 28 or later (Recommended), Firefox, Opera
Mobile Device: Android 4.0+, iOS 8.0+
Time Zone
[
]
This game checks your system clock very often, and it will crosscheck against the server's clock periodically. What this means for you is that your system's clock must be accurate. Use your settings to sync online if necessary in order for the game to work. This is a simple but necessary step in order to play the game. You don't need to change your timezone.
Registration
[
]
User Account
[
]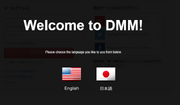 First, you will need to open a user account at DMM.com or DMM.co.jp(NSFW adult section). The same account is used for both sites, so it doesn't matter which one you pick initially. Upon first opening the site, you may see this window ->
Pick Japanese. It doesn't matter for registration, but you won't be able to play the games if the site language isn't in Japanese.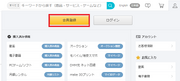 Upon reaching the site, click the person-shaped icon in the top right, and press the yellow button to open the registration page. Registration is free and does not require anything but a working email address. Once you receive the confirmation email and click on the link provided, log in to the main page at either .com or .co.jp.
Profile Setup
[
]
Once complete, click the 'DMM Games' button on the top-left and find Aigis. Navigating the site is a daunting task for those that can't read Japanese, so if you can't immediately find Aigis in the top 10 (which it almost always is), you can simply follow these links: All-Ages or R-18. It may behoove you to bookmark these for future use.

On the intro page, click on the big 'Play Now' button. This will take you to a registration page where you need to fill in some profile details to complete your registration.

1. Nickname: Your name in-game, limited to 12 characters.
2. Gender: Male on the left, female on the right.
3. Date of birth: Year, month, day. In order to play Aigis, your birth date must reflect that you are over 18.
4. Blood type: For the computer to work its virtual juju on you.
Once this is done, click on the big orange "Confirm Details" button at the bottom of the form. You will then be brought to the confirmation screen:

Click on the big orange "Confirm Registration" button to proceed. Or if you would like to change some details, click on the link in blue letters directly below the orange box.
Once you have confirmed your registration, you will see this:

Congratulations, your registration is complete. You may now proceed to the game by clicking on the orange "Start Game" button. The silver button below it brings you to the main "Online Games" page.
Mobile Versions
[
]
Android Version
[
]
Instructions

[

]
Go here
Click this to download an apk for the DMM Games app.
Open DMM Games app, find and click 千年戦争アイギス
Click the yellow button, it will redirect to the login page, then press the yellow button again
Wait for download to be done, install and open the app.
 ???
Profit!
(This is also possible with Android Emulators such as MEmu and Bluestacks)
Notes

[

]
Both the R-18 and All-Ages versions can be downloaded from the DMM Games app.
Generally does not require a VPN now unless your ISP (internet service provider) blocks more than just DNS.
If your ISP does do so, changing DNS might help. Try using this(no root needed, requires lollipop and above) to change dns on a phone.
iOS Version
[
]
Instructions (non-Japan region)

[

]
Make a Japanese Apple ID (adapted from this)

Log out of iTunes/App Store.

On iPhone/iPad, go to settings and account.
Select Apple ID.
Select iTunes & App Store and sign out.

Go to iTunes/App Store and select a free song/app to download.
Select "Create Apple ID".
On region, switch to Japan.
Continue creating account until payment option.
Select "None" for payment option.
Find a Japanese address and fill it in for billing info.

Make sure postal code matches the city+province you select.

Finish verification step.

Sign into App Store with new Apple ID.
Search for "アイギス".

Alternatively, search for "DMM" and then find Aigis app from developer page.

Install.
 ???
プロフィット!
Notes

[

]
iOS (Apple) Version is Aigis A
iOS content is similar to the all-ages version

Some character renders have been further censored beyond regular Aigis standards

No VPN required
Your Aigis A profile can be used in Aigis/Aigis R, and vice versa.
Can still be used with a separate Apple ID (from JP Apple ID) signed into App Store.

Can still be updated while signed in to a different region, just need to put in JP login credentials at least once (it wont log you into JP account, rather it just verifies that you have access to that account)

Can be linked with DMM account; look for and press "DMMログイン"
SC earned in Aigis A will not show up in Aigis and Aigis R, and vice versa

SC in gift box will appear in gift box, but once withdrawn will be locked to whichever version (Aigis/Aigis R or Aigis A) withdrew it
Issues

[

]
If your Apple device is used/has been used to make more than 1 Apple ID, you may get an error for having made too many accounts from the device (Max 3).

Contact iCloud support if that is the case.

Cannot make an Apple ID first and then attempt to use it in the store.

No "None" option will show up as a payment option.

I signed into the wrong account.

Uninstall and then reinstall the app.

I logged into the second profile/first when I wanted the other.

In the options menu, the bottom choice allows you to return to the title screen.