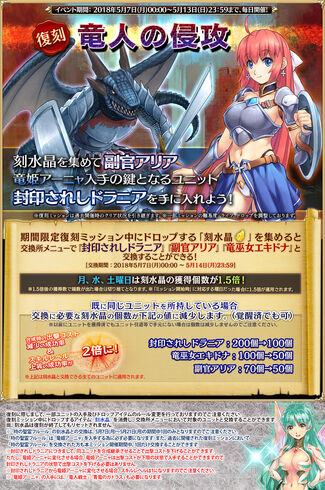 Ryujin Invasion (竜人の侵攻) is a star rush urgent mission that originally ran from 03/12/13 to 17/12/13.
The plot revolves around the race known as the Ryujin, which is making preparations for all-out war. The Prince, with the help of Aria, must defend the kingdom against the army of beasts.
Revivals
Start Date
End Date
Note
28/06/2014
20/07/2014
Weekends only, 8 days total
14/02/2015
08/03/2015
Weekends only, 8 days total
19/11/2015
26/11/2015
26/09/2016
02/10/2016
01/05/2017
07/05/2017
07/05/2018
13/05/2018
29/10/2018
04/11/2018
16/09/2019
22/09/2019
Revival Notes
Edit
Players farm Time Crystals from any of the event maps.
A certain amount of Time Crystals is needed to trade for a copy of the revived unit.

Subsequent copies will cost less Time Crystals.

For the duration of the revival, the chance of Skill Level Up and Cost Reduction for the unit is doubled.
For Monday, Wednesday and Saturday (JST time, UTC +9:00), all Time Crystals gained from farming any of the maps will be multiplied by 1.5x.
During the revival, Fleur, Spirit of Time can be bought in TP for 500 TC (Once per revival). Fleur can be used to 'unseal' Dorania into Dragon Princess Anya or to Cost Reduce a unit of any rarity with a 100% chance. (Fleur will be consumed in the process, Fleur can't CR units beyond their limit.)
Original
Edit
This was a star rush type event in which the player earned rewards by completing missions and earning stars. Rewards were awarded after the event finished.
Condition
Reward
Clear 4 missions
Lieutenant Aria
Earn 10 stars
Aria starts at lv10
Clear 7 missions
Aria Cost -1 (-1)
Earn 19 stars
Aria Cost -1 (-2)
Earn 21 stars
Aria Cost -1 (-3)
Clear 8 missions
3 Sacred Crystals
Earn 24 stars
Sealed Dorania
During revivals, the normal star rush rewards are no longer available. Instead, players can gather Time Crystals (TC) that can be exchanged for event units in the trading post. Time Crystals drop from event maps in addition to previous drops.
Dorania's price prior to 5th revival was 300/250.
Echidna's price prior to 5th revival was 150/100.
Note that the reduced price for units is only available if a copy of the unit is already owned -- it doesn't help if you had the unit before but lost it (e.g. by discharging or using as a combination material). This is particularly notable for Dorania, as he will be lost if he is used to create Anya.
Also note that these same units will be available during the revival of Return of the Dragon Princess (and still only one Fleur may be purchased between both events).
Notable Enemies
Edit
Enemies' HP and melee attack strength varies from mission to mission. Listed values are the maximum values that occur in this event.
Enemy
Unit
Type
Attack
Type
HP
ATK
DEF
MR
Attack
Speed
MOV


UP

Notes

Lizard Spearman
Melee
Dragon
Physical
900
450

150

171
Initial: 30
400
1 UP

Dragon Soldier
Melee
Dragon
Physical
3600
630

300

171
Initial: 20
400
1 UP

Red Dragon Mage
Ranged (160)
Dragon
Magic
Splash 133
5400
500

400

181
Initial: 30
Move: 121
Missile: 6
400
2 UP

Dragon King
Melee
Dragon
Magic
7200
540

500

181
Initial: 60
350
3 UP

Lizard Swordsman
Melee
Dragon
Physical
540
270

50

49
Initial: 8
1500
1 UP

Lizard Axethrower
Ranged (147)
Dragon
Physical
540
300

0

131
Initial: 60
Move: 51
Missile: 2
900
1 UP

Lizard Knight
Melee
Dragon
Physical
900
360

150

86
Initial: 15
1500
1 UP

Green Dragon Mage
Ranged (139)
Dragon
Magic
Splash 133
900
230

120

181
Initial: 30
Move: 121
Missile: 6
400
2 UP
Has an aura.
Dialogue
Edit
Translations courtesy of Petite Soeur (Patreon) (edited)
Aria Introduction

"Prince, terribly sorry for the late introduction."
"I'm Aria. I'm assisting the defense squad for the current 'Dragonewt Invasion' as ordered by Anna-sama."
"First, I'll tell you about the dragonewts. According to legend, the dragonewts fought as monster troops long ago during the Millennium War."
"After the monsters were defeated, it seems the scant few dragonewt survivors hid themselves deep beneath the earth."
"I'm willing to bet that the dragonewts are responding to the monsters' revival."
"Dragonewts live for a long time, but their reproductive ability is low. If we're talking numbers, we have the advantage."
"However, each one's fighting potential cannot be compared to humans."
"They possess exceptional power, and their entire bodies are covered in tough scales."
"Furthermore, they live for a long time, so it's said they're greatly experienced in battle. They're unusually tough opponents."
"Now then, please give me your order."
External Links
Edit
Community content is available under
CC-BY-SA
unless otherwise noted.