Sacred Forest
Mission Type
Story Mission
Charisma Cost
10
EXP
28
Base Gold (3★ Gold)
480 (720)
Life
50
Initial Unit Points
5
Deployed Unit Limit
5
Number of Enemies
10
4★ Conditions
Only male units
Prerequisite
Escape the Capital
Unlocks
Goddess Shrine
Sacred Forest (神殿の森) is the second Story Mission. It is another mission that has more Life than the number of enemies, making it impossible to fail. This will be the first mission to feature drop rewards and a completion bonus that the player can subsequently add to their sortie team, combine for EXP or Class Change, or discharge for Gold.
Enemies
[
]
Enemies
Enemy
Unit
Type
Attack
Type
HP
ATK
DEF
MR
Attack
Speed
MOV


UP

Notes

Goblin Soldier ×7
Melee
Goblin
Physical
448
98

0

101
Initial: 12
700
1 UP

Bandit ×3
Melee
Human
Physical
2240
154

40

162
Initial: 45
550
1 UP
4★ Enemies
Enemy
Unit
Type
Attack
Type
HP
ATK
DEF
MR
Attack
Speed
MOV


UP

Notes

Goblin Soldier ×7
Melee
Goblin
Physical
1280
280

0

101
Initial: 12
700
1 UP

Bandit ×3
Melee
Human
Physical
6400
440

40

162
Initial: 45
550
1 UP
Dialogue
[
]
Sacred Forest dialogue
Anna: The shrine should be nearby. We must find it.
Soldier: A swarm of monsters is closing in on us!
Anna: Are they... Heading for the shrine? We've got to hurry!
Anna: No time for detours! My Prince, we must face them here!
Anna: There are different places to set melee and ranged units.
Anna: Melee units can be placed on the road to stop the enemy.
Anna: They directly engage the enemy, but also take the brunt of it.
Anna: Ranged units go on the outskirts and attack from afar.
Anna: They don't take much damage, but they can't stop the enemy.
Anna: There are also ranged healer units to heal your troops.
Anna: Use melee to stop the enemy and ranged to deal damage alongside.
Anna: There's one more thing I'd like you to be aware of.
Anna: This area is our HQ. It's here the enemy has their sights on.
Anna: Our life will drain if they invade and we lose if it hits 0.
(After 7th Goblin Soldier is defeated)
Anna: It would seem that is the last of them. Wonderful work.
Bandit: See that there, Boss? They just wiped 'em all out!
Bandit Leader: Hah! They should be nice 'n weak after that.
Bandit Leader: Listen up! Now's our chance! Take all they've got!
Bandit: But uhh, boss? They just out them monsters ya? Why not just let 'em handle the rest o' the beasts too?
Bandit Leader: You know nuffin runt. Numbers like that? Not a chance.
Bandit Leader: Take all they've got! We'll be rich with all that for sure!
Bandit Leader: Go! Pick 'em clean for anything worth a coin!
Bandit: You sure do know best boss! Let's move you hooligans!
(After 3rd Bandit appears)
Anna: More enemies on the approach, my Prince. Looks like... bandits!
(Clear)
Bandit: This ain't like you said boss! This lot is freakin' strong!
Bandit: After battling those monsters they just walked right o'er us!
Bandit Leader: Shut it! We all make mistakes, yeah? Come on, we're out!
Bandit: W, wait up! Don't leave meee!!
Anna: To think we'd see bandits... Seems they ran into the woods.
Anna: We captured one. They may know something. Let's find out.
Bandit: I thought y'all were sumthin, but I didn't know you was royalty.
Bandit: Please dun kill me. I can tell ye anything bout these woods!
Anna: Do you know of the shrine, then?
Bandit: Shrine? Well, there's this ol' building, but ain't nothin' there.
Anna: An old building...? That's got to be it!
Anna: Now my Prince, for this one's punishment.
Bandit: Please ser, I can't live out there alone. Take me with ya!
Anna: What'll it be, my Prince?
Anna: You'll take him with you? As you wish. Our Prince is kind.
Bandit: Yeah, heh. I uh, owe ya one.
Drops
[
]
Strategy
[
]
3★
This is a pretty straight forward battle, like the first one. First, wait until you have 8 Unit Points and place Crave on the crossroads, next place one archer in front of him, on the lower spot, and another directly above him, and that should cover the Goblins. The Bandits are pretty easy too, you can just change from Crave to your Heavy Infantry, and he'll tank the bandits while the archers wipe them out, or simply place Alissa next to the upper archer. It should look something like the screenshot.
4★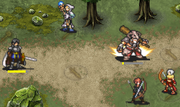 If you have Christopher or Robert placement similar to the 3★ will work.
Where the original mission was impossible to lose, this one can prove challenging as you are forced to only use Male units. At the start place an Archer (Wilfred) near the trees on the lower portion (spot L), then place another Archer (Ars) next to him (spot K). Afterward wait until you have enough UP to place Mortimer above the 2nd Archer (Ars) to block incoming enemies (spot E). Place Valerie near the tree closest to Mortimer to blast enemies he blocks (spot J). Finally place the Prince after the intersection near the HQ point to catch any stragglers (spot C), activate Mortimers skill when Bandits come near him to kill them faster, while the strategy uses a Lv 50 (non CC) Mortimer you may want to withdraw him to not fail the mission if his life is too low.