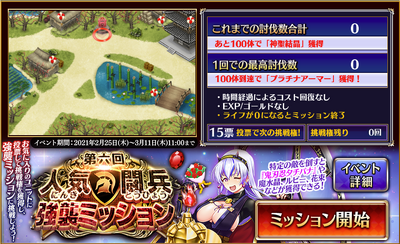 Sixth Popularity Battle Campaign's Assault Mission (第六回人気闘兵強襲ミッション) is an urgent mission running from 25/02/2021 to 11/03/2021.
A mission appearing during a Popularity Campaign event that players can participate in.
Similar to a Subjugation, you can earn various rewards according to the number of enemies killed.

One Voting Ticket will be granted every 150 kills.

For every 15 votes you use, you earn one Challenge Right (挑戦権). Every Assault Mission attempt consumes one right instead of Charisma/Stamina.

Voting Tickets left to next Challenge Right are displayed on the left counter as seen in the image.

Remaining Challenge Rights are displayed on the right counter.

Similar to Subjugations, if your lives reach 0, the number of enemies slain is counted towards your total.
If you give up during the mission, the number of enemies killed will NOT be counted and the 'right to challenge' will still be consumed.
Total maximum kills needed for final reward is 10,000 kills.
Total number of earnable tickets is 66 from 9900 kills.
This type of event has 2 reward scales. The first is based on the total number of enemies slain over the duration of the event. The second is based on the highest number of slain enemies in a single attempt.
Total Kills
Reward
Total Kills
Reward
Kills in 1 Run
Reward
100
2 Sacred Crystals
6000
5 Sacred Crystals
100
Platinum Armor
300
20,000G
6300
60,000G
200
Spirit of Rainbow
600
Spirit of Platinum
6600
Spirit Queen
300
Black Armor
900
20,000G
6900
60,000G
1200
Bouquet x10
7200
Ruby x10
 
 
1500
2 Sacred Crystals
7500
Spirit of Rainbow
1800
30,000G
7800
Gold Ring x1
2100
Gold Ring x1
8100
Alegria
2400
30,000G
8400
Diamond x20
2700
Choice Sake x10
8700
Platinum Ring x1
 
 
3000
3 Sacred Crystals
9000
Freude
3300
40,000G
9300
Spirit of Rainbow
3600
Spirit of Black
9600
Black Ring x1
3900
40,000G
9900
Farah
4200
Crystal x10
10000
Spirit of Brilliance
 
 
4500
3 Sacred Crystals
4800
50,000G
5100
Platinum Ring x1
5400
50,000G
5700
Millennium Wine x10
Map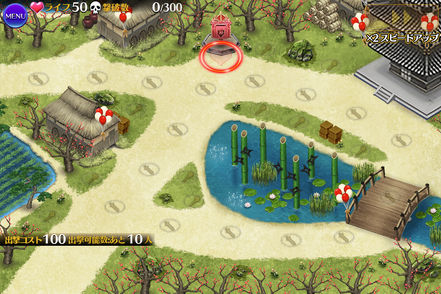 Name
Points
Units
Drops
Special Conditions
Life
Enemies
強襲ミッション
Assault Mission
100
9

Gold Armor

Bouquet

Tachibana Lv1
Unit Points don't regenerate
50
300

Ruby x2

Demon Crystal (1) x2
Each wave corresponds to 100 enemies.
Enemy
Unit
Type
Attack
Type
HP
ATK
DEF
MR
Attack
Speed
MOV


UP

Notes

Foot Soldier ×28
Melee
Human
Physical
750
100

100


MR 10
146
Initial: 7
400
1 UP

Sanosuke ×4
Melee
Human
Physical
6000
400

200


MR 10
146
Initial: 7
400
2 UP

Shizuka ×1
Melee
Human
Physical
18000
1500

600


MR 10
146
Initial: 14
500
3 UP
While blocked, regenerates at a rate of 3%/0.483s (6.2%/s).

Yellow Preta ×24
Melee
Youkai
Physical
700
150

50


MR 15
101
Initial: 12
900
1 UP

Green Kappa ×3
Ranged (87)
Youkai
Magic
1000
150

150


MR 15
181
Initial: 20
Move: 121
Missile: 1
700
1 UP
Uses melee attack when blocked.

Blue Oni ×2
Melee
Youkai
Physical
3000
750

250


MR 20
141
Initial: 30
400
1 UP

Rindou ×1
Ranged (80)
Youkai
Physical
15000
200

20


MR 10
117
Initial: 18
Move: 81
Missile: 0
400
3 UP
Attacks all units within range.

Benibotan ×1
Ranged (200)
Human
Physical
8000
200

50


MR 10
51
Initial: 8
Move: 31
Missile: 10
600
3 UP

Kibahime ×1
Ranged (80)
Youkai
Physical
70000
3000

250


MR 10
53
Initial: 16
Move: 17
Missile: 0
400
3 UP
Attacks all units within range.

Ninja ×25
Ranged (160)
Human
Physical
900
190

30


MR 10
57
Initial: 8
Move: 21
Missile: 5
1500
1 UP

Azami ×1
Ranged (140)
Human
Physical
3000
250

150


MR 10
56
Initial: 8
Move: 21
Missile: 5
1500
3 UP

Saki ×1
Ranged (180)
Human
Physical
9000
400

300


MR 10
38
Initial: 4
Move: 3
Missile: 7
1500
3 UP
Attacks up to 3 units within range simultaneously.

Tachibana ×1
Ranged (300)
Human
Physical
46000
1200

300

25
Initial: 12
Move: 3
Missile: 5
1500
3 UP

Tachibana (Clone) ×7
Ranged (200)
Human
Physical
8000
300

150

41
Initial: 16
Move: 11
Missile: 5
1500
1 UP
Translations courtesy of Petite Soeur (Patreon) (edited)
Note: Takes place in between the Group B Introduction and Group C Introduction from Sixth Popularity Battle Campaign's Decisive Match
Assault Mission Opening

Shizuka: "——I see, holding a military exercise isn't just to reward and entertain the people, but to use their emotions as nourishment for the Youkai."

Tachibana: "Righto—. There's merit for both Youkai and humans! I believe the mock battle will be the very best~♪"
Kibahime: "Hey, Tachibana! Shizuka-sama is a princess! Please speak respectfully!"

Shizuka: "It's fine, Kibahime. Since she's your friend, that makes her my friend as well, does it not?"
Kibahime: "Shizukaaa! Eheh, friends, huh... Eheheh~♪"

Shizuka: "You're the friend I entrusted my back when we fought against that Maou Army. It wouldn't be an exaggeration to say we're close friends."
Kibahime: "Mm~♪ Yoosh, today, let us both do our best during the mock battle!"

Tachibana: (Aah, my princess is so cute today as well... I must engrave this wonderful view into memory!)
Saki: "... Say, everything you're thinking is written on your face, you know? You're a Shinobi, so please tighten your wits a little more."

Tachibana: "Fufufu, I believe Saki-chan will also understand when she finds someone she fancies, these feelings~♪"
Saki: "Wha... I, I don't understand such things! Fancy...? Uugh..."

Tachibana: "It's written on Saki-chan's face as well, see? Fufufu, s—o cu—ute!"
Saki: "G, geez! Please stop—! The mock battle's gonna begin!!"

Tachibana: "Oops, that's right, that's right. Now everyone, are you ready?"
Tachibana: "This mock battle will be combined with the voting. Let's aim for the 'Magic Vote Box' by overcoming the defences of the elite led by the Prince~♪"
Tachibana: "And Prince-chan, show everyone your cool side by splendidly repel everyone that approaches!"
Saki: "Haa... I lost my rhythm talking with Tachibana-san..."

Shizuka: "Well then, let's go reproduce that moment. This time, Saki's also with us."
Saki: "Ehh? Ehh? What? Samurai Princess-sama, what in the world are——"
Kibahime: "I—! Ibaraki Douji—Kibahime! Shall stand alongside the Samurai Princess and win the popularity vote!!"

Shizuka: "My homeland has risen once more, aiming for the day Youkai and human walk together——Samurai Princess, Shizuka! Steps forth!!"
Saki: "I, I'm also doing it!? Let's see... To build friendly ties between the Kingdom and the East Country! Ninja Saki——shall kick your butts!"

Tachibana: "Everyone's full of spirit! Come, Prince-chan, begin the mock battle vote!!"
Community content is available under
CC-BY-SA
unless otherwise noted.