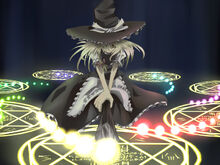 Hello there everyone! I enjoy long walks on the beach, staring at the stars, and conversing with demons so they don't do silly things!
I am simply a man who enjoys games for what they can do and the stories they tell, Aigis being high on the list. I started playing on Nutaku at the tail end of The Treacherous Pirates event and on DMM at the tail end of the original The Pumpkins' Magick Armor Soldier event.
I am looking forward to be able to help around the forum in anyway I can!
Other games I play:
Shiro Project: RE (DMM)
My favorite pages
[
]
Add links to your favorite pages on the wiki here!
Favorite page #2
Favorite page #3