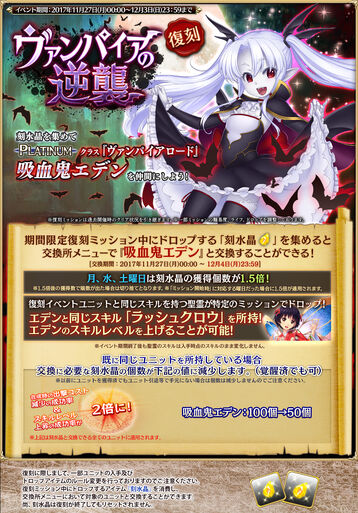 Vampire's Counterattack (ヴァンパイアの逆襲) is a star rush urgent mission that ran from 26/03/15 to 09/04/15.
Revivals
Start Date
End Date
26/12/2016
01/01/2017
27/11/2017
03/12/2017
Revival Notes
Edit
Players farm Time (Moment/Revival) Crystals from any of the various event maps.
A certain amount of Time Crystals is needed to trade for a copy of the revived unit.

Subsequent copies will cost less Time Crystals. (or unless the player already owned said revived unit previously)

For the duration of the revival, the chance of Skill Level Up and Cost Reduction for the unit is doubled.
For Monday, Wednesday and Saturday (JST time, UTC +9:00), all Time Crystals gained from farming each of the maps will be multiplied by 1.5x.
For the entirety of the event, special fairies, known as Bonboris, will be dropped. These fairies are used specifically to skill up Eden for this revival only.

For more information on how Bonboris work, please check out the respective page.
This is a star rush type event. The player earns rewards by completing missions and earning stars. Unit rewards will be received based on the amount of collected stars at the end of the event whereas additional rewards are granted instantly.
Condition
Reward
Condition
Reward
Earn 5 stars
Eden
Earn 5 stars
Gold Armor
Earn 6 stars
Skill Level 2
Earn 6 stars
Demon Crystal x3
Earn 7 stars
Skill Level 3
Earn 7 stars
Gold Armor
Earn 8 stars
UP Cost -1 (-1)
Earn 8 stars
Spirit of Gold
Earn 9 stars
Skill Level 4
Earn 9 stars
Gold Armor
Earn 10 stars
Skill Level 5
Earn 10 stars
Demon Crystal x5
Earn 11 stars
UP Cost -1 (-2)
Earn 12 stars
Gold Armor
Earn 12 stars
Skill Level 6
Earn 14 stars
Spirit of Gold
Earn 13 stars
Initial Level 30
Earn 16 stars
Platinum Armor
Earn 14 stars
Skill Level 7
Earn 19 stars
Demon Crystal x7
Earn 15 stars
UP Cost -1 (-3)
Earn 22 stars
Spirit of Platinum
Earn 16 stars
Skill Level 8
Earn 23 stars
Platinum Armor
Earn 17 stars
Initial Level 50
Earn 24 stars
Spirit of Rainbow
Earn 18 stars
Skill Level 9
Earn 19 stars
UP Cost -1 (-4)
Earn 20 stars
Skill Level 10
Earn 21 stars
UP Cost -1 (-5)
Missions
Edit
Dialogue
Edit
Demons of the Night
Anna: This is the village residence stated in the report. To attack villagers in the middle of the night......
Anna: My Prince, a new report has just come in. It appears monsters are headed this way! We must prepare for attack!
(Vampire appears)
Anna: So that is what attacked the villagers......
Anna: My Prince, if you are attacked too many times you will become paralyzed. Please, be careful!
(Clear)
Anna: Why are the vampires....
Sue: We must hurry and evacuate the villagers.
Anna: What is that.......?
Anna: No, we must prioritize the villagers' safety. Let us return to the castle for now, my Prince.
Sue's Introduction
Sue: It seems my introduction is a little late. I'm Sue. My profession is 'Vampire Hunter'.
Sue: On the day my family was attacked by a vampire, I swore that I would eliminate every last one of them. That is all I live for now.....
Sue: Don't worry, I'm not looking to make an enemy of the Prince."
Sue: Anyway, in order to save those who have had their blood drained by a vampire, we need the serum from the vampires and find a method to administer it.....
Sue: But, the number of victims was quite high so gathering enough may not be possible. Stopping vampirization using serum may be impossible.
Sue: For now, I'll keep searching for another method. We should move separately and gather information.
Sue: If I find anything, I will be in touch. Until then, take care.....
The Lolita Vampire
Soldier: Report! Monsters have been spotted at the shrine!
Anna: What do you suppose they're after... We mustn't let the shrine fall into their hands. My Prince, we must quickly prepare for combat!
(Eden appears)
Eden: Geez, they're not here yet....? I guess golems are just as slow as they look.
Eden: For such delicious looking humans to appear before me.... I can't wait!
Eden: The name's Eden. Good name, right? So you know, my attacks are nothing like those other vampires, okay?
Eden: My bites are downright paralyzing ♪
(Clear)
Eden: Fufu... You're pretty good. For a human ♪
Eden: As a reward, I'll give you a message from my father.
Eden: 'If you wish to save the plebeians, come to my citadel.'
Eden: 'If you defeat me, the lord of the vampires, you can prevent their vampirization.'
Eden: 'However, your time is limited. Once the plebeians have completed their transformation, you will have lost your chance to strike.'
Eden: Well then, I've given you the message. Good luck. You're going to need it.
Anna: She's gone..... My Prince, it's most likely a trap.
Anna: We don't have any information, but if we want to save the villagers we have no choice but to accept. My Prince, let us make haste....!
Entrance to the Abyss
Anna: This place...... Nostalgic, isn't it? We fought vampires back then as well, didn't we?
Anna: I wonder what enemies lie in wait ahead.....
Soldier: Report! Enemies are approaching!
Anna: It seems they're coming earlier than expected. My Prince, let's go say 'hello'.
The Underground Lair
Anna: It seems we've entered an underground hall.
Eden: Fufufu... We've been waiting. My children! Come forth and kill the humans! If you defeat their Prince, my father will surely reward you!
(Vampires appear)
Anna: As expected of an enemy stronghold, huh? The vampires just keep coming......
Eden: Now, let me show you how much stronger I am with the power-up my father bestowed upon me!
(Clear)
Anna: The enemies' retreat has been confirmed. Let us proceed.
Soldier: My Prince! I have word that enemy forces have appeared at the shrine. It is urgent that we return.
Anna: This timing...... Could that be the reason why they lured us here? No matter. We must return to the shrine at once, my Prince!
Shrine Assault
Anna: It seems we've made it but...... Wh-what is that giant.....!?
Anna: It looks it is endowed with enormous defensive and offensive capabilities. It is an absolute necessity we approach this with utmost caution.
Anna: It seems we have a rough battle ahead. My Prince, your orders, please!
(Clear)
Anna: It looks like we managed to drive the enemies away.....
Elizabeth: Oh? It's over already? Toooo baaad.
Vincent: I heard the story from Sue. First, let me tell you what we know.
Vincent: That's all we know about the vampire, Eden.
Vincent: It seems that she tragically lost her life once before at the hands of demons.
Elizabeth: And it seems like she lost all memories of her previous life.
Anna: To be brought back to life by the powers of the vampires..... It must be the doing of the one she calls her 'father'.....
Anna: Poor thing..... If only there were a way for us to help her restore her memories.
Vincent: .....I wonder if it's possible for one to remember their own death and transformation into a monster.
Anna: .......! That's.......
Vincent: .....Putting that aside, we don't have time to spare. If we are to save the villagers, we need to hurry and take out the enemy leader.
Vincent: We'll stay here and protect the shrine. Please go ahead and deal with the enemy.
Anna: Judging from the previous battles, it appears the enemy is quite the tactician. We may have quite the battle ahead.....
Anna: Don't be discouraged, my Prince. Let's charge forth! ......I, too, am prepared for what is to come.
March of the Dead
Anna: This is quite the eerie maze, isn't it....
Anna: Here is the enemy stronghold. Enemy locations are unknown. Please take heed.
Anna: .......! Enemy presence detected. My Prince, time for battle!
(Clear)
Anna: Let us proceed, my Prince.
Feast of Blood
Vincent: So you've finally made it this far. From this point on, allow me to accompany you.
Vincent: The enemy leader is just ahead. Don't let your guard down.
Vampire Lord: You've done well to make it here, humans..... But, this is where I will turn you into stains on the floor.
Eden: Father, allow me to join you!
Vampire Lord: Silence, you failure! As if garbage like you could fight alongside me. Don't make me laugh.
Anna: Eden is a failure.... What does that mean?
Vampire Lord: Hmph.... Fine. I shall indulge you. Originally, to become a vampire lord would take countless years and months but......
Vampire Lord: For strong minions, I decided to experiment by injecting a lifeless body with great power and forcefully resurrect it as a vampire lord.
Vampire Lord: At that exact time, I came into possession of the body of a girl who had not yet become a vampire.
Vampire Lord: Yes, her life, as well as her village, came to an end that day at the hands of vampires....
Vincent: ........! !
Vampire Lord: However, the experiment was a failure. To think you would be so utterly useless.....
Vampire Lord: You're getting in the way of my battle. Disappear!
Anna: That is despicable..... To play with a person's life like that is unforgivable!
Vampire Lord: Come, let the blood feast begin. Children of the shadows, let us savor the taste of royalty!!
(Vampire Lord appears)
Vampire Lord: Now you will see the power of a true vampire lord! Accept your fate!
(Clear)
Sue: Is it over......?
Elizabeth: Oh? Seems we're a little late.
Anna: My Prince, the battle is finished. Let us return to the castle.
Eden: Wait!
Eden: I have a favor to ask of all of you! With the defeat of my father, I have been set free.
Eden: But, I may once more lose myself and bring about more tragedy...... Before I can cause more problems, at least let me die with a smile.
Sue: ......T-true, it's hard to say when you may start attacking people. It wouldn't be a mistake to end your life here but......
Elizabeth: ......Granting her wish now and giving her relief is one idea...... Right?
Vincent: Wait. For now, we should watch over her and see. ......There may be a way to reverse this. If her situation changes, we can deal with it at that time.
Elizabeth: To spend time with her.... It would only invite trouble later.....
Anna: I, too, believe it is a bit too early to make a decision. We should take a bit more time to figure things out.
Anna: For now, let's leave this creepy place.
Vampire Hunters
Elizabeth: ......My Prince, allow me to apologize in advance. Although we may not know when she may start attacking humans, I simply cannot leave her be.
Khuri: For such a cute girl to be a vampire......
Fran: We have fought countless vampires that were once human. As a vampire hunter, it would be a fitting job.....
Anna: The girls are acting in accordance with their orders...... However, my wish is to help Eden.
Anna: My Prince, it seems we have no choice but to fight them and show our resolve!
Vincent: Everyone......
Vincent: Eden. Take cover somewhere. I must show my resolve as well......!
(Sue appears)
Sue: The girl was made into a vampire..... Does that mean she herself has sinned?
Sue: ......No, but she is now a full-fledged vampire. Before another tragedy can be allowed to happen, I.......
(Clear)
Sue: Will you allow Eden to live, my Prince?
Anna: If there is a chance, I will bet on it..... We will watch over Eden.
Elizabeth: Like I said, we don't know when she'll turn into a beast. She may turn her fangs on you.
Elizabeth: When that time comes, do you think will you be able to stop her?
Anna: That's......
Eden: I cannot say when I will no longer be myself, but until that time I will certainly be with the Prince and his people.
Eden: If I think I am about to lose all control, I am sure the Prince will grant my wish before it's too late.
Vincent: I see...... When that time comes......
Elizabeth: Well, if that is how she feels, we, too, shall watch over her.
Sue: The path to co-existence, huh.....?
Anna: It looks like we've successfully brought this case to a close, my Prince. I just hope that time never comes.
Video Guides
Edit
External Links
Edit